Ceiling Mounted Lights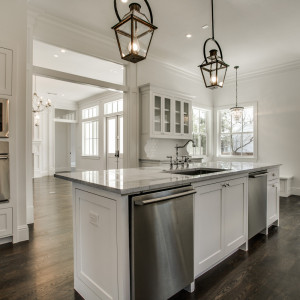 Ceiling lights come in a wide array of styles and hanging options. Chandeliers, track lighting, industrial lighting, pendant lighting, semi-flush mounts, and more. However, they all will protrude from the ceiling with grace and poise. You can select the drop to be either several inches or several feet. Bevolo copper and stainless steel ceiling-mounted lighting options are available to match the colors and themes of any area.
How Low Should A Ceiling Light Hang?

Generally, if people are going to be walking underneath your ceiling-mounted light, then you want to make sure it isn't hanging lower than seven feet (84 inches). To find out the maximum height for your copper lighting fixture, measure your ceiling and subtract 84 inches from that measurement.
Flush Mounted Ceiling Lights
Installed against the ceiling directly with no gap, lights that are flush-mounted are ideal for low-height rooms. Easy to install with present wiring, they make great fixtures. Some of the benefits of flush-mounted ceiling lights are:
Ease of maintenance and cleaning
Covering imperfection in the ceiling
Safer for kids' rooms and high-traffic areas
Wider selection of copper and stainless steel designs
Taking up less space
How Bright Should My Ceiling Light Be?
Copper lights have been used for decades thanks to their robust constructions and practical light-giving abilities. There are three main types of lighting that typically require different levels of brightness:
Task Lighting - lighting needed to perform work and tasks in a designated space; it can be focused on certain areas as needed.


Ambient Lighting - the primary lighting of rooms and spaces; generally foundational lights.


Accent Lighting - typically used to showcase features in a room; copper sconces make wonderful examples of accent lights.
Kitchens and dining rooms are generally best at 30-40 lumens for each square foot. Living areas and bedrooms are best capped at 25 lumens and hallways at 20 lumens; 800 lumens is equal to 60 Watts.
Are you ready to brighten up your home or building with the best ceiling-mounted lights in Louisiana and beyond? Then the talented artisans at Bevolo have the copper and stainless steel lights to service your every need! Reach out today to find out more about pricing, delivery, and custom lighting options.