Top 10 Pins
December 4th, 2014
Take a look at our TOP 10 Most Pinned on Pinterest.
1. Open up and say "aah." A wide, dogtrot-like central hallway runs straight from the front door to the back, letting natural light and traffic flow easily in the 2013 Southern Living Farmhouse Restoration Idea House.Bevolo French Quarter Lantern on Yoke Bracket.
2. Southern Living Farmhouse Restoration Idea House. Visible from the front door, the back porch's centered round table offers a pretty place for flowers or serving during a party. Enhance the exterior with authentic lights. Classic wall-mounted and hanging lanterns by New Orleans-based Bevolo surround the home with historical charm.
3. Charming and classic arts and crafts style home with a lovely front porch. The home features Bevolo French Quarter Lantern on the original bracket.
4. Southern Living Idea House Nashville, TN at Fontanel. Bevolo French Quarter Lanterns add rustic appeal to the home's front entry.
5. Outdoor luxury at its finest. Bevolo French Quarter fixtures on hanging chain in electric!! Luxe Interiors + Design Idea House.
6. Trend Alert: Lanterns in Kitchens! Bevolo French Quarter lanterns with yoke bracket above the kitchen island in an open concept floor plan.
7. Bevolo Warehouse District Pendant. These beautifully spun copper pieces have a unique industrial look. They can be mounted over a door with a gooseneck bracket and are also available on a hanging chain or stem. Electric only.
8.From the luxury seaside town of Alys Beach, FL, a beautiful interior courtyard with an antique olive jar planted with greenery.
9. Coastal Living Showhouse 2012 Bevolo Pool House Lantern! Take a bit of Bevolo craftsmanship and beauty wherever you go with these portable pool house lanterns. Ideal for use in your outdoor living space, these lanterns are designed to be used with large candles to warmly illuminate any area you choose to place them.
10. Pretty porch details, Farmhouse Revival Idea House, Southern Living Plan #1821 | Bevolo French Quarter Lights with original bracket.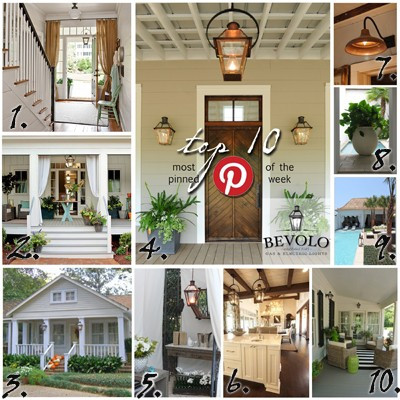 ---