A Complete Guide to Bevolo Finishes & Materials
July 13th, 2015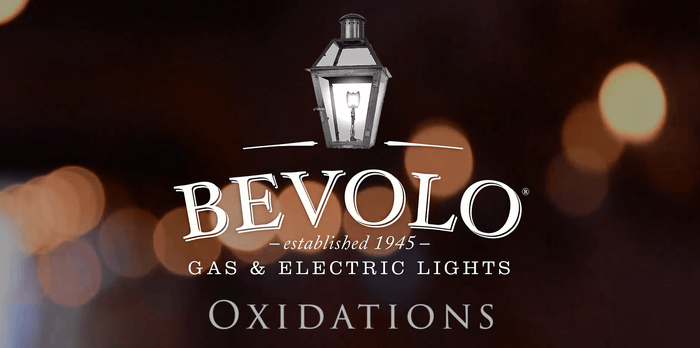 ---
Q. What do we make our lights out of? Why do we use copper?
A. When you purchase a Bevolo lantern, you're making a lifetime investment! For 70 years, Bevolo has handcrafted lanterns in New Orleans from the highest quality American mined copper. Copper is corrosive resistant, malleable, durable, long lasting metal that responds well to temperature extremes. These properties make copper an excellent material for our fixtures and a popular building material for roofs, flashings, gutters, domes, vaults and doors. For these reasons copper has been used in architecture for hundreds of years. Although the initial investment for copper is greater than other metals like aluminum and zinc, it pays for itself in performance and lifespan.
View Video: Why Copper?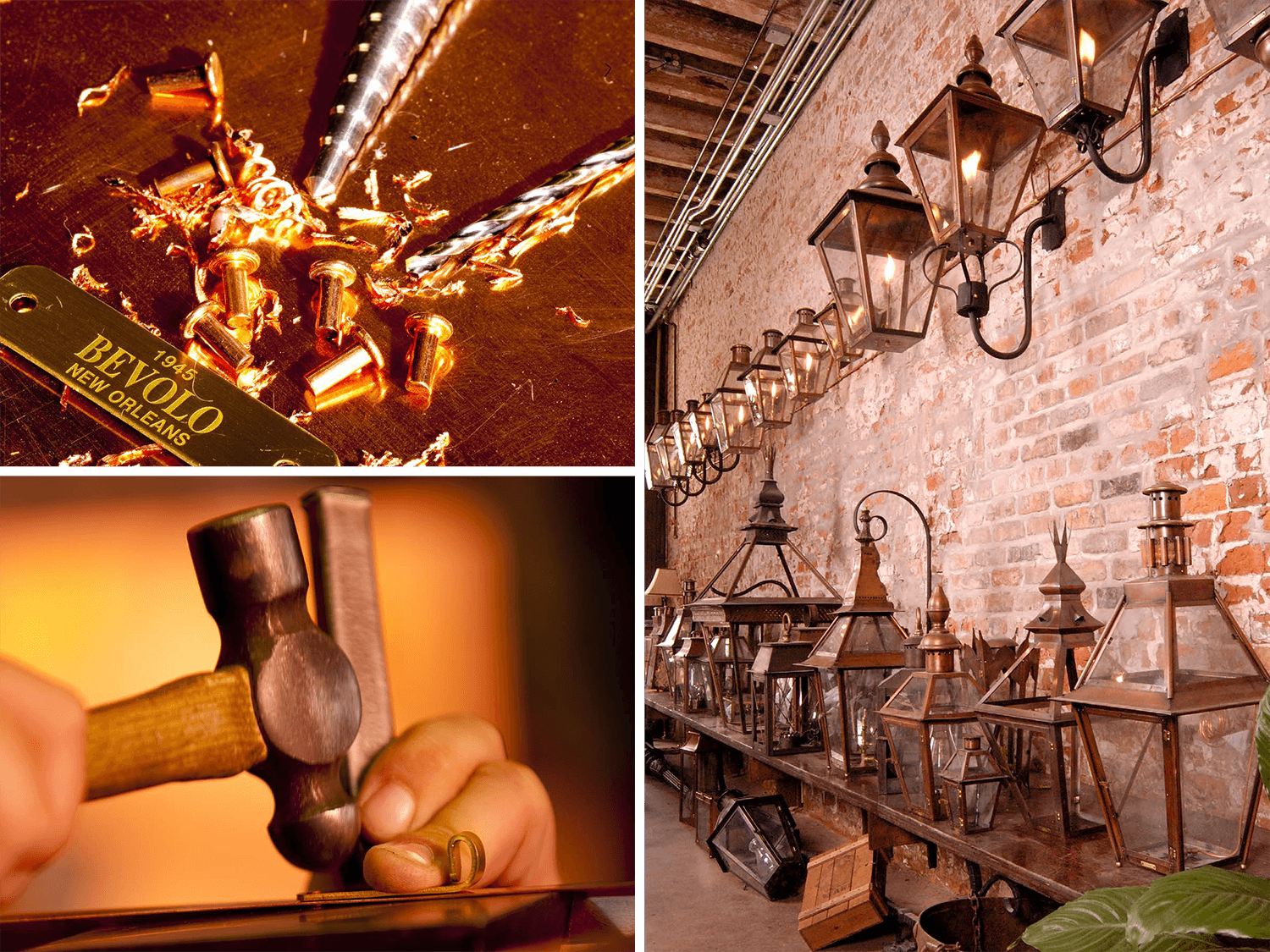 ---
Q. What finishes or colors do your lights come in? Do you have a black finish? Do you make lights in stainless steel?
A.Oxidizing Bevolo fixtures ensures the lanterns age gracefully and evenly over time. Our signature oxidation has become a Bevolo trademark - a beautiful antiqued copper hue with warm caramel undertones. This sought after color is exclusive to Bevolo and is used on nearly all of our lights. For clients who desire an almost black or oil rubbed bronze finish, a dark oxidation may be an option. A dark oxidation further accelerates the copper aging process reaching a deep brown shade that often reads as black from a distance.
In many cases we can fabricate our fixtures from 316 stainless steel - an alloy with increased corrosive resistances and greater strength at elevated temperatures. Stainless steel fixtures work well in contemporary spaces. It also gives a transitional twist to classic designs.
View Video: What Finishes Does Bevolo Offer?
---
Q. Does Bevolo recommend using one finish over the other?
A. Yes, Bevolo encourages clients to select our signature oxidation because it ages gracefully and consistently over time. In some cases, the dark oxidation devalues the look of the lanterns by creating a flat paint like finish that detracts from the naturally beautiful material. Additionally, we strongly discourage using the dark oxidation in coastal environments because the corrosive salt and humid air pushes the copper to its limit causing it to peel and flake.
View Video: What Copper Finish Does Bevolo Recommend?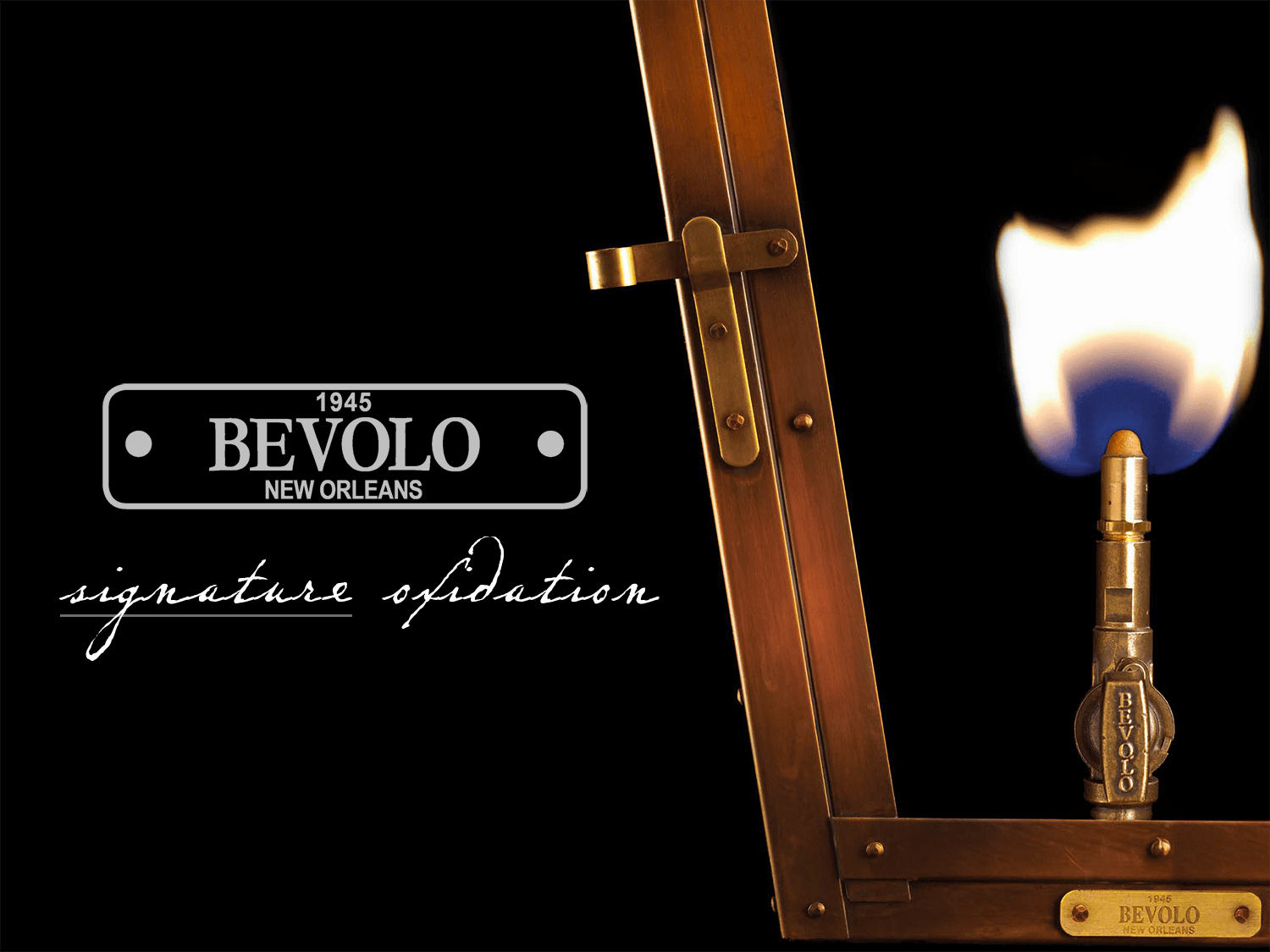 ---
Q. Will my lights change colors?
A. One of the greatest characteristics of copper is that it will age with your home, developing a lovely patina. The speed at which your lanterns patina is determined by your climate. Climates with high humidity and close proximity to salt water tend to patina much faster than others and will eventually develop a verde-gris or green hue like the Statue of Liberty. We've seen lights reach a full patina in as little as twelve months and as long as fifty years. No two houses will have lights that age precisely the same.
View Video: Will My Bevolo Lights Change in Color?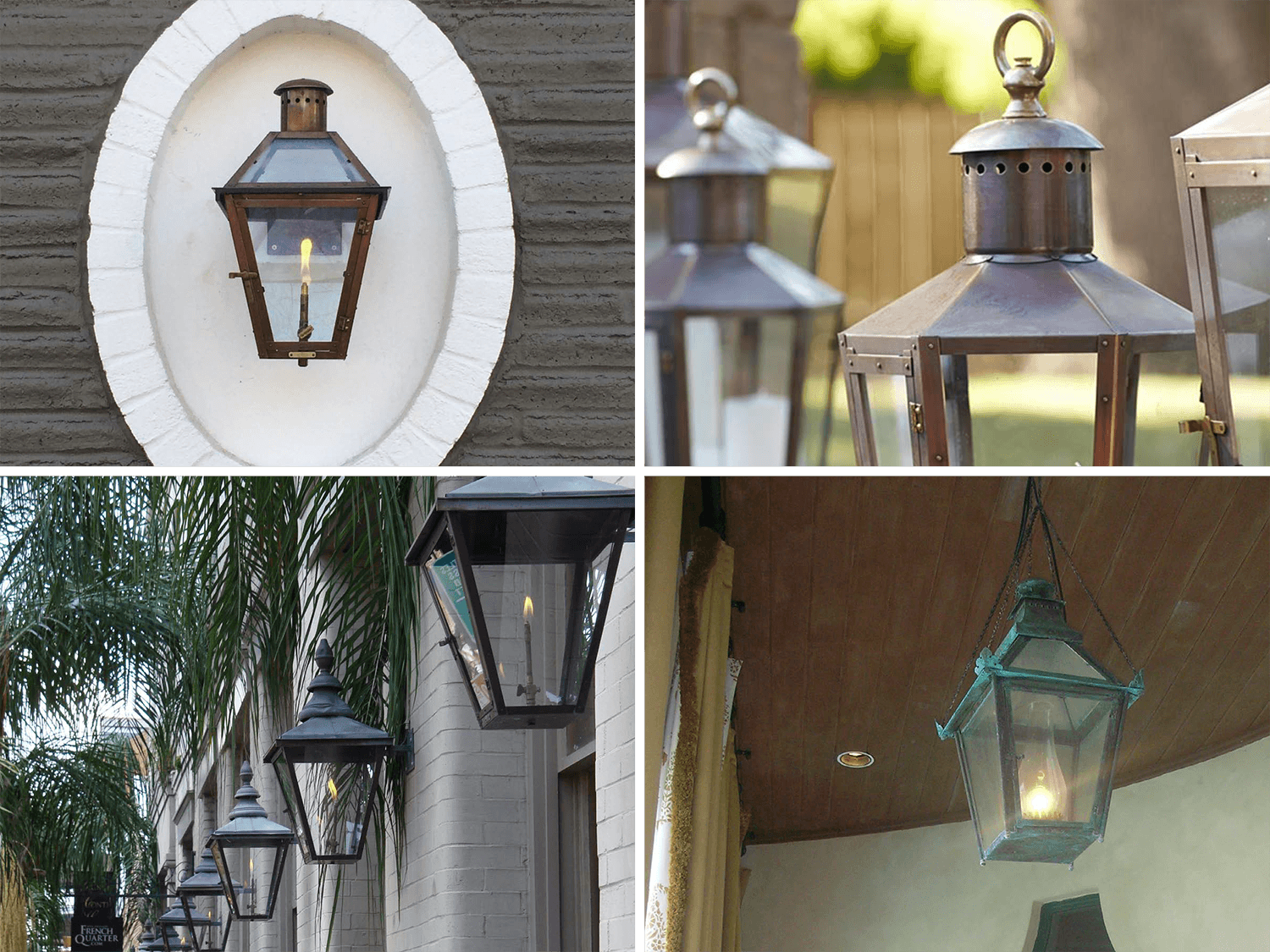 ---
Q. If my hardware is another brass/oil rubbed bronze/nickel is ok if my lights are copper?
A. Yes, real materials complement other real materials. Copper is sure to add a warm glow that will last for years to come. Using a variety of lighting, door knobs, faucets and other hardware in coordinating finishes adds visual interest throughout a home.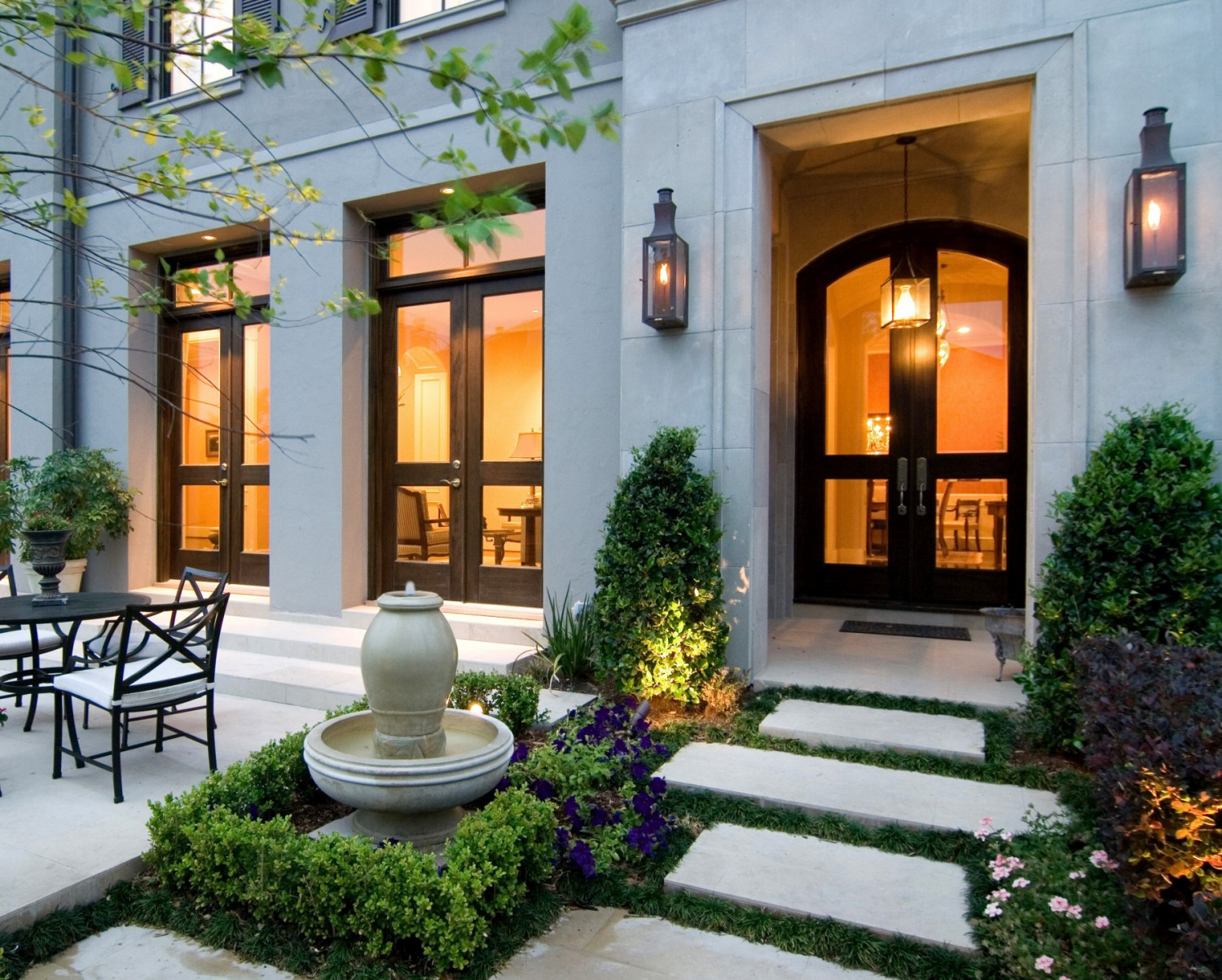 ---
Q. Do Bevolo Lights Withstand Extreme Temperatures and Harsh Environments Like Salt Air?
A. Copper is a corrosive resistant durable metal that responds well to temperature changes. Additionally, our hand-riveted lantern construction allows the fixtures to expand and contract avoiding metal fatigue. Standard Bevolo brackets are powder coated steel, but in harsh salt air environments we highly recommend using naval brass brackets. Naval Brass is a corrosive resistant marine grade alloy made of mostly copper, zinc and a little tin. High quality marine grade materials withstand the test of time in even the most brutal environments. With lights in all 50 states and 49 countries to date, Bevolo Lanterns have been tried and tested in almost every climate worldwide.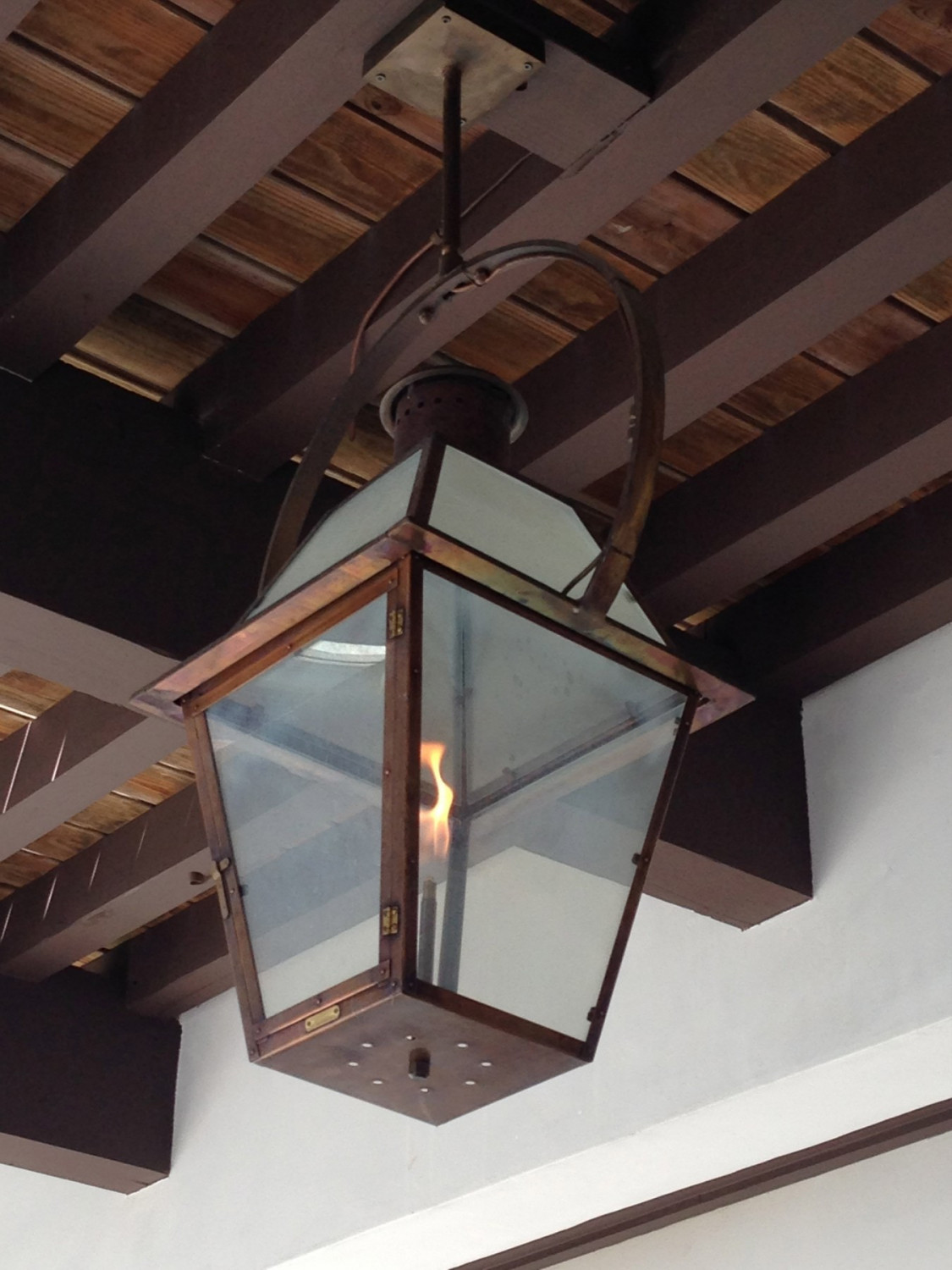 ---