A Beacon of Light in Havana
April 4th, 2017
Recently, Bevolo did a study on architectural and lighting elements in Havana, Cuba. In this post, the design details the city on the Sea are highlighted.
Havana is a magical place trapped in design decay. The buildings hearken a time when mafioso arranged deals in the back room of a high-end casino, while Salsa dancers entertained a glitzy, glamorous crowd. Each Rococo chandelier and Art Deco Armoire is covered with a fine layer of dust. There is such beauty in the past, preserved by each crumbling wall or forgotten Grand Piano; the emotion one experiences, is similar to the French Quarter's charm in history and preservation.
---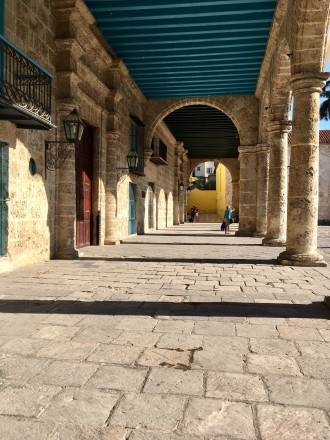 Here is a grand portico in the Plaza Vieja. The lights flanking the door preserve traditional integrity while the ornate bracket both dresses up the entry and reflects beautiful iron work on the balcony. The brackets also serve a functional purpose, they protrude outward to cast more light on the large area.
If you are seeking a similar Bevolo style, take a look at the Paris Alley on Paris Alley Bracket.